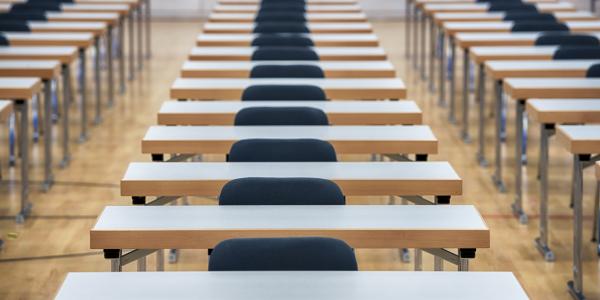 Scottish pupils are the most over-tested in the world, according to an expert who recently analyzed assessment in the country.
Professor Gordon Stobart went on to say that one solution might be to end National 5 exams – a qualification he described as "unsuitable for the purpose".
He made the comments yesterday, following the August 31 release of his report for the Organization for Economic Co-operation and Development (OECD), Assessment of Secondary Cycle Two Students: A Comparative Perspective, which was commissioned by the Scottish government.
---
OECD report: Could Stobart's discoveries spell the end of the S4 exams?
Analysis: Scottish qualifications now have a 'reform plan'
Exam reform: Exam changes "must be bearable for teachers"
---
"I think Scottish students are the most over-examined in the world," Professor Stobart said at an online event hosted by the University of Glasgow school of education called Time for Change?
While he stressed that "I can be corrected" on his belief that no other country examines its grade-level students to the same degree, Professor Stobart noted how unusual the Scottish course was, with its end of year, end of – course exams in S4 (typically National 5s), S5 (Highers) and S6 (Advanced Highers).
"I don't know of any other system that has three separate review levels in three years," he said.
Professor Stobart – a Emeritus Professor of Education at the Institute of Education, University College London, and Honorary Fellow at the University of Oxford – had, in its August OECD report, previously mentioned the idea of ​​moving away from national exams 5.
Yesterday, he asked the question: "How do you make the exams less dominant for all seniors?" [secondary] phase?"
He said that "my way forward " would be asking, "do we need the National 5 – could we not offer a 16 year school certificate that actually looks at the broader curriculum? "
This, in the first part of the senior phase, would leave room in secondary schools "for a lot more things, in what [students] get out with at the end of S4 ".
While acknowledging that Highers and Advanced Highers could be justified in their current form as a means of selection aid for college and employment, Professor Stobart said: "I don't see National 5's scoring ability. "
He added that "you could do something more useful with the certification at this point" and that Scotland's current senior phase setup did not fit well with Curriculum for Excellence's ambitions.
Professor Stobart also said that "Scotland has a good vocational offer ", but vocational qualifications are" not particularly integrated "into examinations, although both are supervised by the Scottish Qualifications Authority (SQA).
"It strikes me that these are separate streams and they stay separate," he said, noting the irony that professional qualifications often seemed to match the curriculum better for excellence.
Professor Stobart also wanted to explore how the current assessment and review arrangements affect a typical teacher's day in Scotland.
He said the OECD analysis found that "Scottish teachers spend more time teaching in classrooms "and that" often in other cultures it is less than that "- although" I don't know if that means teachers [in other countries] do other larger things [in their curricula]".
Professor Stobart also stressed the importance of involving students in any exam reform, because "the people most affected by assessments and exams are the students – they are the ones who take them, they are the ones who are shaped by them, the ones who form their identity around what goes on in the assessment systems ".
There is still time for young people to speak out on educational reform. https://t.co/pRB4pP2fH7

– Heads of school in Scotland (@LeadersScotland) November 17, 2021
The University of Glasgow event was chaired by Professor Louise Hayward, who, it was announced in October, will lead a group advising the Scottish Government on 'how agreed principles can be translated into design for assessment and qualifications ".
She pointed out that in Scotland, "in some respects, compared to England, the liability system [in education] is really benign. "
Even so, there were still unintended consequences, such as unofficial school rankings based on exam scores and, in primary school, other national assessments.
"So even when the accountability is not government driven, the accountability framework within society still has a negative impact, I think, on behaviors in schools," she said.