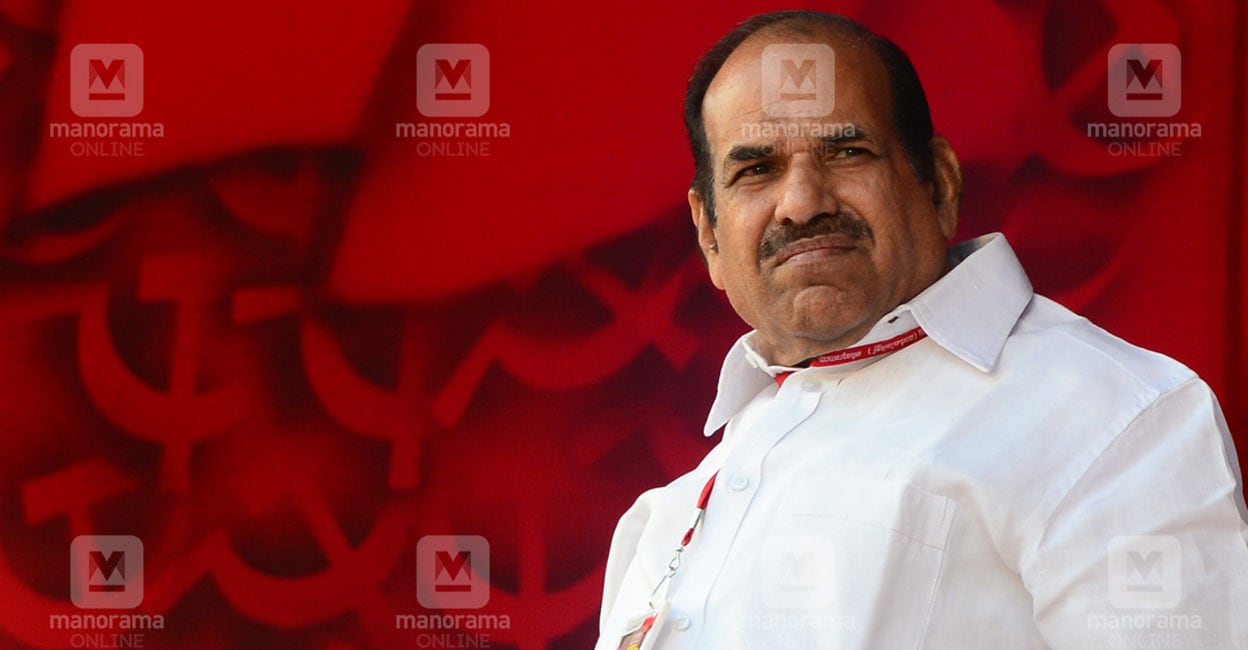 Veteran Marxist Kodiyeri Balakrishnan resumed his post as Secretary of State for the PMO in Kerala on Friday, a year after stepping down from his all-important post.
In his first interview after his return to the stand, Kodiyeri Balakrishnan, who was on one-year medical leave, addresses Manorama malayala, on what kept him going during the interregnum despite the hardships on a personal level.
You are back as Secretary of State for the PMO after a year, and face the media again. How do you feel?
I was unable to perform the duties of Secretary of State after I fell ill. The COVID-19 pandemic has restricted travel, so I requested time off. Now, with the change of situation, the party decided that I could take responsibility. The party may have felt that the time was right for my return since I am also part of one of the teams responsible for overseeing the conventions at the district level.
You had to be absent for a year for medical treatment. Didn't that bother you?

I had to stay away due to illness and that was to be expected. Yet I was involved in all other party business, including policy making and committee business. It was painful that I couldn't function in public as the party secretary. Mingling with people gives me more energy.
Even though you were on sick leave, it has been widely said that you stay away due to the arrest of your son Bineesh. And you come back after he's released on bail?

If that had been the case, I could have returned immediately after he was released on bail a month and a half ago. His arrest and my departure on leave are different. I was targeted when he was arrested. They spread ducks like my son was arrested in a drug case. The investigation found nothing, but his bail was delayed.
What caused the delay in granting the bond? Is it because he is the son of Kodiyeri Balakrishnan?

The position they have taken arouses such mistrust. The additional public prosecutor represented the Directorate of Execution (ED) itself before the district court, while the public prosecutor appeared there for the other three defendants. The High Court judge took a position that a decision would only be made after hearing the ED's argument. They continued to extend the argument. I don't think it was with good intentions.
The arrest of the son, the cancer … Weren't they traumatic?
Crisis situations are normal for political workers. In my case, it was a personal assault, especially when I was sick. The intention was to trap my son in a case, mentally destroy the father and disintegrate the family, and thus render me inactive in the public sphere. They also wanted to silence me in the elections to local bodies and the State Assembly.
The opposition and the media have been kind to you. They didn't target you.

I have never claimed otherwise. It was the central agencies that tried to track me down. If they had not had such intention, Bineesh's bail would not have been delayed.
Even during the crisis, you did not lose your pleasant demeanor and your presence of mind. What enabled you to continue?

I didn't commit any offense so I didn't need to be afraid. Our state of mind will only be affected if we have done something wrong.
Although on leave, has Kodiyeri Balakrishnan not made some crucial decisions at the PMO?

I was part of the collective leadership. Staying in Thiruvananthapuram helped me as I could step in whenever a decision needed to be made. If I was the secretary, I should be away. I was able to take charge of the office and intervene positively in several files during the votes of the assembly. It didn't matter if I was a secretary or not. One should not act solely on the basis of the position he occupies. These messages are not constant.
Does anyone who supported you during the crisis need a special mention?

My wife has been with me ever since I was diagnosed with cancer, and it has helped me recover. The party has borne the enormous medical expenses. I would have been disappointed if the party and my family had not supported me.
How is your health now?
I no longer have any particular health problems at the moment. I take medication and have to undergo medical examinations without fail. Cancer is a serious illness. There is a big change now and it could be dealt with. You don't always have to think about the disease. It would make the situation worse. I do not think about it. The doctors recommended surgery, and I did as I was told. When they tell me what the next treatment is, I will. Treating cancer is expensive. We should be able to help people with cancer.
How do you rate A Vijaraghavan's performance as secretary in charge?

He did well. The comrade discussed matters with others and functioned as a collective unit.
Will you have a third term as secretary in March, when the PMO holds its state conference?

It's up to the party to decide. I do not think about it. I don't need to give my opinion now. I will only speak from the party platform.