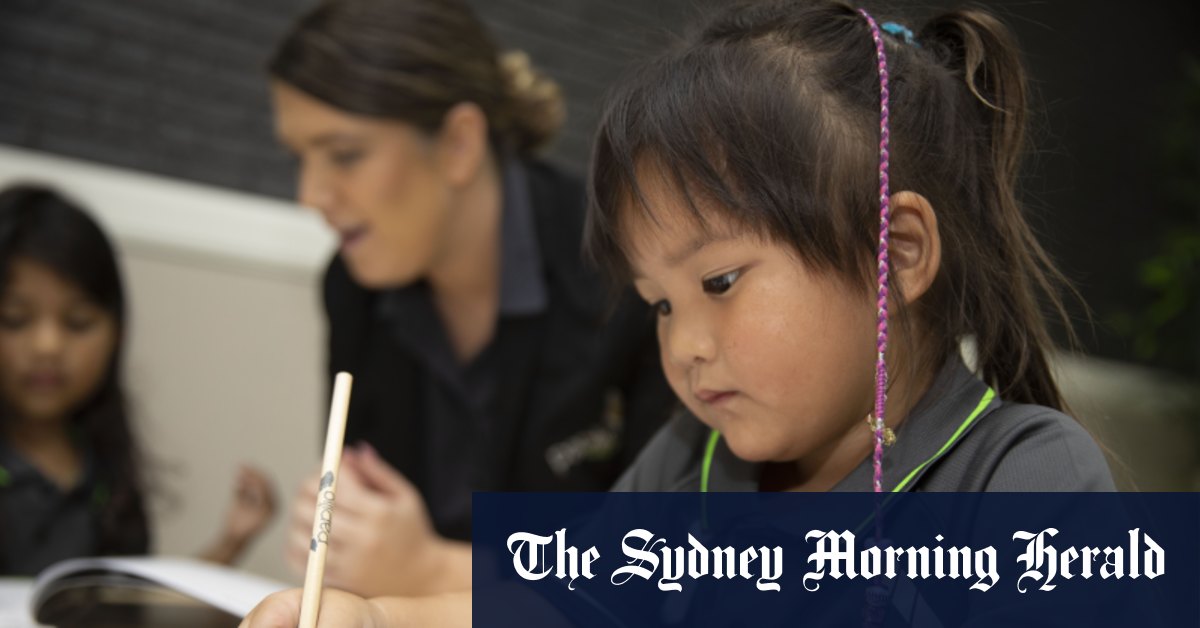 "By really showing them that there is a career path, it's not just childcare that some of their parents might still view as early learning," she said.
Latest figures from the National Skills Commission show there were a record 6,236 vacancies in early childhood education across the country in March. This figure increased by 133% compared to March 2020, when there were only 2,679 vacancies.
Goodstart Early Learning advocacy officer John Cherry said the chronic shortage of teachers needed urgent attention.
"What we need is federal and state governments to agree to urgently fund the implementation of an effective workforce strategy that increases the pipeline of new teachers to the sector and supports retention of teachers to continue working in the sector," he said.
"Encouraging educators to move into teaching qualifications should be an immediate priority."
Cherry said all states and territories should look to Victoria, which offers generous scholarships and accelerated education courses to attract early educators.
Victoria had the lowest proportion of child care centers operating with a staff waiver (3%) in the country in December last year. Nationally, the rate was 13%.
Montessori Australia chief executive Hani Ghali said early years teachers needed to be better supported by the sector.
"Teacher well-being is absolutely essential for good educational outcomes, so government and all other industry players need to understand teachers' perspectives and better support them together," he said.
"We have noticed an increase in the number of vacancies in schools, which could be due to a growth in the sector or it could be that good teachers are leaving their profession. With COVID-19, quarantine restrictions and critical labor shortages, teachers are burnt out."
The director of the Papilio Early Learning Artarmon centre, Gemma Noake, said she does not believe the wider community fully understands the importance of early educators.
"One of the challenges of COVID was the impacts of isolation and vaccination mandates," she said.
"We were very aware that we wanted to stay consistent for our families and our children. We were that one consistent path for our children.
In a report released last year, the United Workers Union said more than a quarter of current educators were considering leaving the industry due to excessive workloads and low pay.
"The pandemic has exacerbated an existing problem, with vacancies nearly doubling from pre-COVID levels," said Helen Gibbons, director of early childhood education.
NSW Education Minister Sarah Mitchell said she had a very good working relationship with the sector and would continue to work with them.
"We recently released the next round of our $20,000 scholarships to study a bachelor's degree in early childhood education," she said.
Loading
"I agree with the industry that space is complicated and needs more Commonwealth attention to reform and simplify."
A spokesman for the acting federal education minister, Stuart Robert, said there had been more than 23,550 registrations for childcare qualifications under the government's JobTrainer scheme, which offers childcare places free or low-cost training.
"Thanks to our work-ready graduate package… the cost of an early childhood teaching qualification is now 42% lower than it was in 2020, before the reforms were implemented" , said the spokesperson.
"And the number of students starting an early childhood teacher qualification in 2021 is up by 18.7% compared to 2020 (i.e. 750 additional entry-level graduates).
Cut through the noise of the federal election campaign with news, opinion and expert analysis from Jacqueline Maley. Sign up for our Australia Votes 2022 newsletter here.