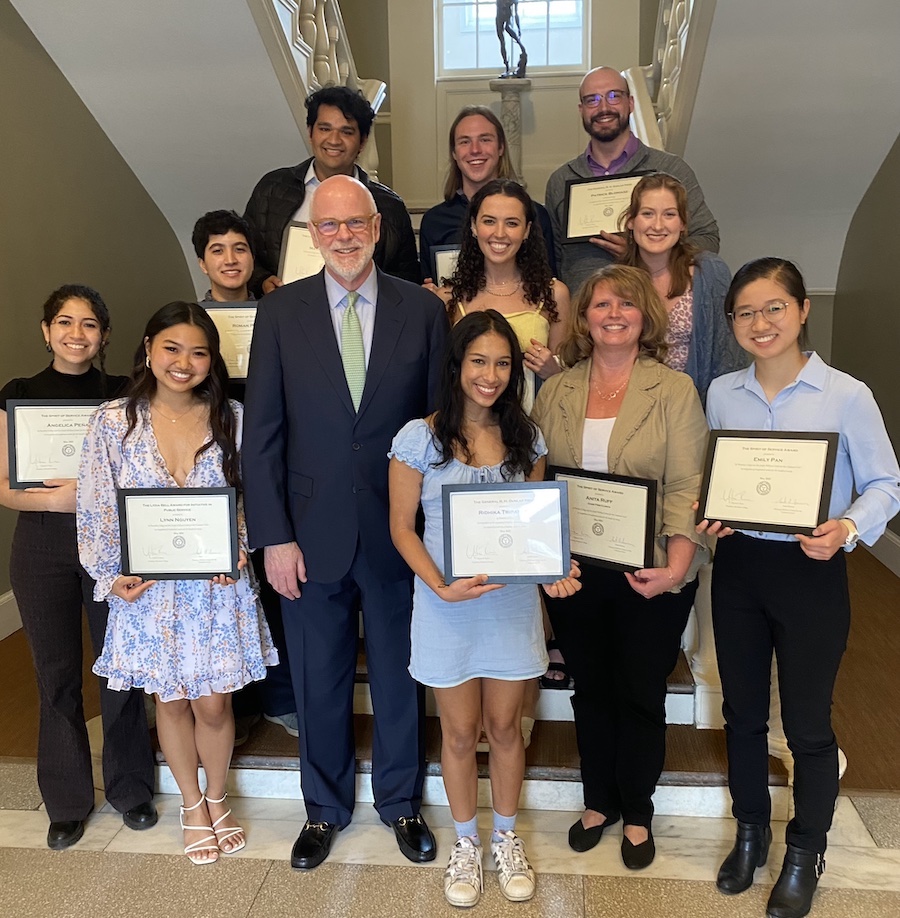 Enthusiasm
McKeen Center recognizes those who give their all to others
The price of the spirit of service:
The Bowdoin Spirit of Service Award is presented annually to a Bowdoin senior and community member or organization who are genuinely committed to improving the lives of others through service, their actions speaking loudly while they remain humbly silent.
Anita Ruff
During her eight years as Executive Director of Oasis Free Clinics, a free primary care medical practice and dental clinic for low-income uninsured adults in central Maine, Ruff has worked tirelessly to build capacity and enable the expansion of the services offered, including for new Principals [immigrants and refuges who settle in Maine]. Under his leadership, Oasis has provided Bowdoin students with the opportunity to volunteer and do internships, launching students into careers in public health and medicine where his mentorship will make them strong advocates for those who have fallen between the times. cracks in our medical system.
When the pandemic hit, Ruff oversaw vaccination clinics for the Midcoast region and worked to meet the new and evolving needs created by COVID-19. Her commitment to all aspects of health and wellness is deeply rooted in compassion and action, and we are thrilled to honor her for the integral work she has done with Oasis and beyond to support the Midcoast community.
Emily Pan'22
Throughout her time at Bowdoin, Pan has found countless ways to pursue the common good, including taking on leadership roles to help her peers pursue meaningful community engagement. She has participated in and led several Bowdoin Volunteer Corps groups ranging from the Public Health Club to the Multilingual Mainers program working with young people to instill in them a love of language learning. She has also taken on a leadership role within the Bear Buddies volunteer group, requiring an enormous degree of coordination, creativity, independence and collaboration, as student leaders fully orchestrate weekly programming for disabled youth and their brothers and sisters.
Pan is dependable, trustworthy and committed to serving her communities in extraordinary and admirable ways, and often goes unnoticed. She listens and ensures that everyone's voice is heard and valued. In her senior year, she co-led an Alternative Spring Break trip where she connected Bowdoin students with organizations working and organizing on the ground with migrant families.
Pan is the type of leader who fosters opportunities for her peers to build their own meaning and connection to service, demonstrating by example what it means to align her passions and strengths to help support each community she is a part of. .
Roman Parajon '22
Parajon always says "yes" to helping others, whether it's supporting McKeen Center staff, Bowdoin students, or the vast network of community partners he engages with locally, nationally, and globally. . He has participated in countless community engagement opportunities and civic engagement efforts on campus, including as a Bowdoin Volunteer Corps Scholar at the McKeen Center and with the Bowdoin Votes Advisory Group, and he has received the Global Citizens and Denning scholarships.
In all of her roles, Parajon constantly thinks about ways to center equity and access to resources. In his senior year, he co-led an alternative spring break community trip to the US-Mexico border called "Lessons from the Frontier." His thoughtful leadership grounded in care, respect, and intentionality made him the ideal leader to bring his peers into an immersive experience dealing with the direct impacts of US immigration policies.
He is committed to using his skills, strengths and passions to positively impact those around him in a lasting and meaningful way, while being respectful and sensitive to the complexity of communities and social issues, as well as the need for community-driven solutions. Parajon represents what it means to center equity and inclusion in community service work and quickly earns the trust and admiration of everyone he works with.
Angelique Pena '22
Pena's time at Bowdoin was driven by her curiosity, unwavering commitment and passion for the topics she chose to explore. She brings a natural empathy to all of her many roles on campus, including as a THRIVE Mentor, Tutor and Learning Assistant, and America Reads and Counts Fellow.
Her intelligence and thirst for learning and change manifests itself in many different ways, but is always rooted in a fundamental desire to fight for equity, especially in education. Her academic trajectory and community engagement experiences reflect this drive: she developed an alternative spring break trip centered on digital literacy and equity in Maine, and in 2021, she was awarded a public service scholarship Bowdoin to study the state of equity in Maine after school. programs through the Maine Afterschool Network.
Pena's ability to connect with others is amplified by her infectious enthusiasm, her willingness to be vulnerable in her work, and her eloquence both on paper and in conversation. It is a privilege to work with her and a joy to know her; she will leave a mark wherever she goes, and Bowdoin is better for her time with us.