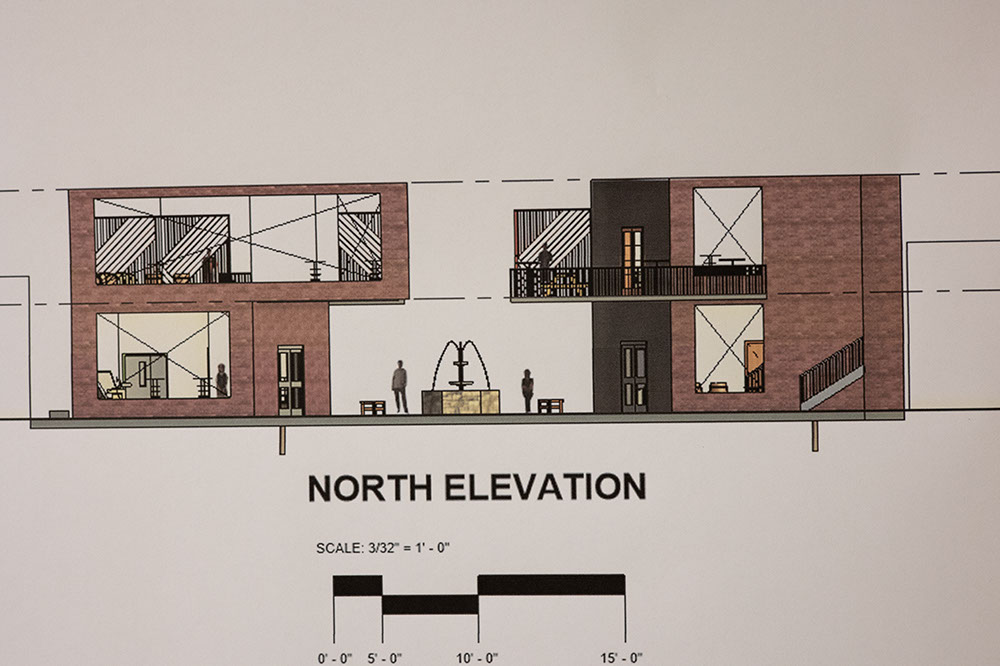 Enthusiasm
Multipurpose building and park proposals for Wiggins give students of the School of Construction and Design a real opportunity
[ad_1]
Tue 12/10/2021 – 9:37 p.m. | By: David Tisdale
A collaboration between architectural technology design students at the University of Southern Mississippi (USM) and leaders from a neighboring community holds promise for mutual benefit by bringing out the potential of both.
In early 2021, the Stone County Economic Development Partnership (SCEDP) received a facade grant from the Mississippi Power Company. The Town of Wiggins (the seat of government for Stone County) and county leaders wanted to show landowners and investors in the area the opportunities available for small business development in the Wiggins central business district, and in May they contacted USM about a design project for the organization that could be supported by the grant.
Students of the Architectural Studio III of USM Assistant Teaching Professor Nick Wickersham attended a workshop hosted by SCEDP that included Wiggins Mayor Darrell Berry, community leaders and members of the SCEDP Board of Directors and the Chamber of Commerce. This meeting became the basis for a more in-depth discussion of how students in the USM program could produce designs to help the community see what is possible for Wiggins, and since then several Wickersham students have used the town. like their studio lab, where they developed options for a design site.
"Last summer, Dr. Erich Connell (Principal, USM School of Construction and Design), SCEDP Executive Director Betsy Rowell, and my colleague John Kochtitzky and I participated in a few panel discussions, emails and phone calls to discuss the possibility of what could be done this (fall) semester, "Wickersham said. "I proposed the following project: two life / work buildings and a public park (for Wiggins). This gives students the opportunity to design three different types of spaces: residential, commercial and public.
"When it comes to architecture, we want to know more about 'place': what makes Wiggins special and how do we fit some of these things into our architecture? If we do this, hopefully our architecture will then take root and these proposed visions from Wiggins will help others see the potential here.
This semester, Wickersham has 20 final year architecture students participating in the project. In their recent interim review of the project, students received feedback from local residents.
"This project gave them the opportunity to use their design skills in a real-world situation, as well as talk with people at Wiggins about what they want to see for their community, which is important because it gives them a real perspective. , "he continued." They (the students) will need to take these answers to heart, using some of the suggestions from the community to improve their plans for the final exam.
Wickersham students toured the Wiggins town center site and made sketches and drawings; their work will be printed on weatherproof signs so they can be displayed on sidewalks and other areas of downtown Wiggins. A final review of the project will take place on Wednesday, October 13 at the Stone County Courthouse in Wiggins.
"I've worked with many groups of students over the years, and it's so empowering for me to be surrounded by their enthusiasm and creativity," Rowell said. "There is no challenge that they will not meet. I look forward to our community seeing the product of their efforts.
At the end of the project, Wickersham and Rowell have scheduled a best practice meeting, where they will review what has been accomplished and what can be built in the future. "After this meeting, we will identify one or more projects for the next semester and possibly the summer," Wickersham said. "In the future, I see many opportunities in this collaborative environment.
Breanna Sykes, an architectural technology student at USM, is currently working with SCEDP, helping with visual diagrams, maps, and other visual information to meet Wiggins' needs.
Wickersham praised Rowell for his enthusiasm and commitment to the project. "Betsy Rowell is one of the best people I could ask to partner with. She's very passionate about her community, and it's very contagious," he continued. "It's an incredible opportunity. , and she and I are interested in a symbiotic relationship that benefits both Wiggins and the education of USM students. Since this is the first semester, we are both excited about the things that we can accomplish in the future. "
Wiggins Mayor Berry said he was pleased with the partnership with USM and looked forward to the October 13 presentations. USM's design department for their enthusiasm, "added Berry.
Scott Maddox, president of SCEDP and owner of Southern Turnings on Pine Hill in downtown Wiggins, agrees with Berry. "It's a really amazing group of students," he said. "Their Stone County study, the creative and innovative ideas they presented and the attention to detail were flawless. Their ideas are relevant, appropriate and viable development options.
"If you are considering joining the growing list of entrepreneurs in our growing county, 42 ideas will be created by this group of talented students to inspire and motivate you to make your plans come true."
The USM School of Construction and Design is housed in the College of Arts and Sciences. For more information about the school, visit School of Construction and Design | The University of Southern Mississippi (usm.edu).
[ad_2]