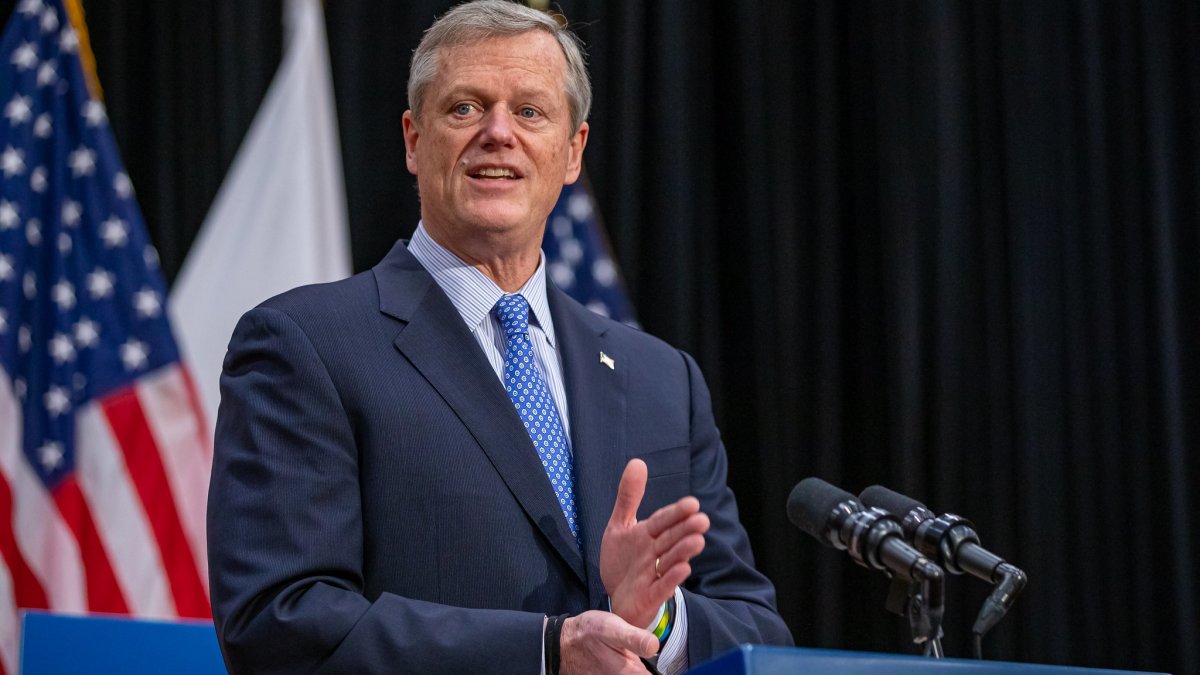 School Fee
New restrictions on Massachusetts coronavirus possible – NBC Boston
Gov. Charlie Baker said on Monday he was "essentially begging" Massachusetts residents not to travel for Christmas while also hinting at the possibility of further restrictions to come.
"Let me be as clear as possible," he said. "We're basically begging everyone to stay in their immediate homes during this holiday season. We're not asking people to do it forever, we're asking them to do it for the next 10 or 12 days."
Our redesigned local news and weather app is live! Download it for ios Where Android – and subscribe to alerts.
Baker said cases had increased dramatically in the state in the wake of Thanksgiving, and a second increase could put the health care system at risk of being overwhelmed.
"We can have the kind of celebrations we want to have around Christmas and New Years next year," he said. "But we just can't afford another peak, one of the biggest in America, to take place after the Christmas holidays while we still grapple with the Thanksgiving peak."
The governor said his staff are currently discussing the possibility of additional guidance or restrictions on vacation travel and expects to have more to say on this later in the week.
"All options are on the table," he said.
After the Thanksgiving surge in COVID-19 cases and the rise in hospitalizations, Baker is warning Massachusetts residents not to travel for the next 10 to 12 days.
While Baker has hinted that more restrictions could come to minimize the impact of another wave, Massachusetts residents were rushing to take COVID tests Monday night before their vacation trip, but it turned out to be a chore. tedious for many people.
There were hours of waiting at test sites like the one at Revere High School.
Nancy Wong said she waited two to three hours, while Kerri Smith said she had to wait an extra hour after finding out she was in the wrong line.
"It's very long, longer than expected," Wong said.
"Crazy, can't wait to have the home test kit," Smith said. "It would be much better."
With all the demand for COVID testing, Baker says the state will increase the supply.
"First of all, we're doing more testing now than two weeks ago, and we'll be doing more testing in two weeks than today," Baker said.
But the governor also clarified that while the tests are helpful, it's best to keep everyone at home, otherwise the state's healthcare system could be seriously threatened.
Massachusetts residents are rushing to get tested before the holidays. With all the demand for testing, Gov. Charlie Baker said the state would increase supply. However, the governor also clarified on Monday that while the tests are helpful, it's best to keep everyone at home.
"We're not asking people to do this forever," Baker said. "We are asking them to do this over the next 10 or 12 days."
Meanwhile, everyone is urged to go the extra mile to stay safe this holiday season.
"It's just better to make sure everything is okay and you don't go through this [the virus] to other people, "said Andres Ramirez.
Baker also said on Monday that he was happy that it appears Congress is set to approve a new stimulus package that will include unemployment funding, rent assistance and support for small businesses.
"Obviously, we hope and anticipate that Congress will approve it quickly and get it to the president so he can sign it," he said. "This support is a welcome gift to so many here in Massachusetts and across the country who need it to help bridge the gap between here and the successful implementation of a widespread, safe and effective vaccine."
Congress passed the $ 900 billion pandemic relief package on Monday night.
The first batch of Cambridge-based Moderna's coronavirus vaccine began arriving in Massachusetts on Monday for distribution to hospitals across the state.
Cambridge-based Moderna's coronavirus vaccine arrives in hospitals nationwide on Monday, joining Pfizer in the national arsenal against the COVID-19 pandemic.
Massachusetts is should receive 120,000 doses Moderna vaccine over the next few weeks.
Baker also announced Monday that nearly $ 49 million in grants to more than 1,000 small businesses will be awarded under the state's COVID-19 Small Business Grants Program.
He said all organizations receiving grants were owned by women, minorities, veterans, people with disabilities or members of the LGBTQ community. But 10 times as many companies have asked for money.
"As a business owner it's like, what am I going to do? How am I going to survive?" Said Forrest Wellington, one of the many whose application was denied this time around. .
Wellington, which owns an ice rink in Taunton, has just closed its business again due to the statewide setback.
"We are afraid that he will return to Phase 2, Part 2 soon," Wellington said. "What are we going to do if he goes back? He doesn't give us money for the grant."
Baker says he recognizes the need exceeds the resources. He added more money for small business to the supplementary budget and calls on state lawmakers to pass a bill that would provide more relief.
Massachusetts Governor Charlie Baker details the phase 1 deployment of COVID-19 vaccine distribution in the state.
More than 100 new deaths from COVID-19 were recorded over the weekend, as the state's total number of cases rose by 8,157.
The state's Department of Public Health on Saturday reported 47 new deaths among confirmed COVID-19 patients and 60 more on Sunday, bringing the death toll from the pandemic in Massachusetts to 11,465, or 11,717 when the 252 deaths among people with probable cases of respiratory illness are added in.
Since the first case of COVID-19 was confirmed here on February 1, 324 days ago, a total of 311,090 people have tested positive, including 4,162 whose results were reported by the DPH on Sunday and 3,995 Saturday. More than a tenth of the total number of confirmed cases – 31,516 – were recorded in the past week, as the state continues to face a second wave of infections.
On Sunday, the Ministry of Public Health considered that 82,617 people had active cases of COVID-19, and 1,919 COVID-19 patients were hospitalized. This is down slightly from the 1,927 who were hospitalized on Saturday and well above the 1,191 hospitalizations on December 1. The average seven-day positivity test rate was 5.78% on Sunday.
State House News Service contributed to this report.