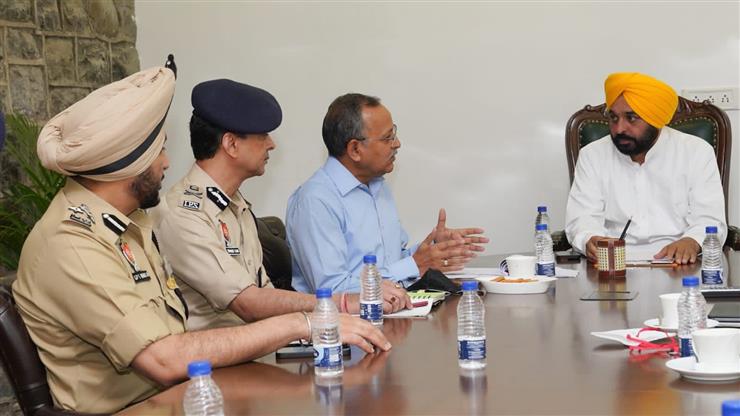 Duties and functions
Showing Zero Tolerance To Gangsters, Bhagwant Mann Orders AGFT To Operate Effectively Without Any Fear Or Prejudice
CHANDIGAR: Showing zero tolerance towards gangsterism, Punjab Chief Minister Bhagwant Mann on Friday instructed the Anti-Gangster Task Force (AGTF) ​​to eradicate gangsters from the state in order to rest the full people's faith and trust in the mechanism of law and order.
While chairing a meeting with the newly constituted AGTF team led by DGP VK Bhawra at RMC this afternoon, Bhagwant Mann reiterated his government's strong commitment to eliminating the threat of gangsterism from the state which is an insult to the peaceful state like Punjab, adding that he said the AGTF would absolutely be provided with the required manpower, advanced technology, adequate vehicles and funds.
The Chief Minister said: "The responsibility of ensuring the safety of three million people in Punjab rests with him and he will leave no stone unturned to raise morale in this regard." Bhagwant Mann asked the officers to discharge their duties with the utmost sincerity, honesty and professional commitment without any fear or prejudice. He assured the officers of the AGTF team of all possible assistance to carry out their duties effectively as they are fully competent to face this mammoth challenge of eradicating the gangsters from the state.
It also authorized the AGTF to use the services of the State Special Operations Cells (SSOCs) in Mohali, Amritsar and Fazilka in addition to the services offered by the 361 police stations in the state.
He also requested the Chief of the AGTF to formulate a Standing Order (SO) for its effective functioning delineating its role, duties and responsibilities within one week. Similarly, Bhagwant Mann also stressed the need to intensify inter-state coordination efforts to ensure coordinated and effective action to curb the terror unleashed by gangsters with a heavy hand.
Other eminent persons who attended the meeting included CM Additional Chief Secretary A. Venu Prasad, Principal Secretary Anurag Verma, DGP VK Bhawra, ADGP AGTF Promod Ban, AIG AGTF Gurmeet Singh Chauhan, DIG AGTF Gurpreet Singh Bhullar and DSP AGTF Bikramjit Singh Brar.