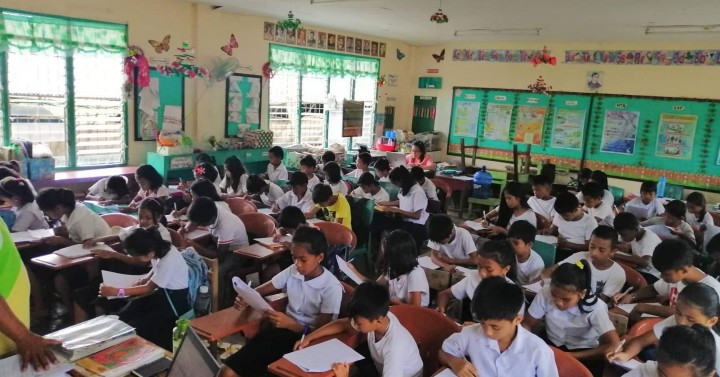 MANILA – A House of Representatives lawmaker on Thursday urged the Department of Education (DepEd) to demand free rapid antigen testing for the pilot implementation of face-to-face (F2F) courses.
In a statement, Misamis Oriental representative Juliette Uy said DepEd could more effectively monitor the health of its teachers and students participating in the campus repeat trial through antigen testing. fast.
"If they don't have rapid and frequent antigen testing, RT-PCR (reverse transcription polymerase chain reaction) testing would be a more expensive option," Uy said.
She did, however, support DepEd's decision to only require fully immunized teachers to teach the limited classes in person.
"DepEd should not deploy its older teachers and teachers with co-morbidities in these limited face-to-face classes, as this would put them at risk of exposure to Covid despite being fully vaxxed," said Uy.
Uy also suggested that DepEd should have more public high schools (SHS) in its plan to have limited F2F classes.
"I noted that they said that only five SHS are on their list, while there are 95 elementary schools and 20 private schools. Five SHS is too little and 95 primary schools is too much. SHS should be more than elementary schools or there should be more SHS added to the DepEd list, "she said.
She pointed out that most high school students are already 18 and would be eligible for vaccination under the current emergency use authorization.
"So it makes perfect sense to have fully immunized 18-year-olds in the limited face-to-face classes," she said.
DepEd Planning Service director Roger Masapol said the pilot implementation will be carried out in up to 120 schools across the country, prioritizing key learners in Stage 1 (Kindergarten to Grade 3). grade) after passing the school readiness assessment by DepEd and their local governments.
"Face-to-face lessons, even in a limited form, can alleviate the challenges of distance education. It can meet the needs of learners without an adult in the family qualified to play the role of a learning facilitator and mitigate the negative impact on child mental health and development of lack of face-to-face interaction and socialization between learners, "Masapol said.
The representative of the World Health Organization in the Philippines, Dr Rabindra Abeyasinghe, welcomed the decision of the Philippine government to approve the pilot program of limited in-person schooling in low-risk areas and assured that it will continue to support the government in the pilot implementation of face-to-face courses.
"The decision to open schools should be guided by (a) a risk-based approach, taking into account the epidemiology of transmission of Covid-19 at the local level and the capacity of education systems to adapt to operate safely, "Abeyasinghe said. (ANP)