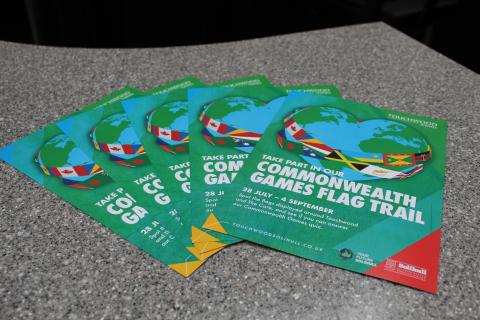 Enthusiasm
Test your Commonwealth knowledge on the Recycled Flag Trail
Residents of Solihull have the opportunity to put their knowledge of Commonwealth countries to the test by participating in the Recycled Flag Trail. Taking place in Touchwood and The Core between Thursday July 28 and Sunday September 4, the trail features a wide variety of recycled flags made by students from across Solihull.
Have you ever wondered which country is home to the largest man-made lake in the world? Have you ever wondered which country has the heaviest turtle in the world? Can you remember what year the Queen visited Touchwood? You'll find the answers to all of these important questions and more by tracking down the 16 recycled flags that are part of the trail.
The Commonwealth is made up of an incredible variety of nations and cultures. This dynamism is strongly reflected in the magnificent flags that represent each of the member countries. Instantly recognizable symbols, flags are a key part of a country's collective identity and can become an element of national pride.
A few months ago the call went out to schools in Solihull to use their ingenuity and imagination to design a flag for their chosen Commonwealth country, made from 100% recycled materials. Keep an eye out for crunchy packets, milk caps, and plastic bottles as you hunt down all the flag locations.
To participate, you can pick up a roadmap at the Touchwood Information Desk or at The Core. If you prefer, you can download your file here.
Councilor Andy Mackiewicz, Cabinet Portfolio Holder for Climate Change, Planning and Housing, said:
"The Recycled Flag Trail is a brilliant initiative and once again, schools across the borough rallied and took up the challenge with enthusiasm and creativity. The awesome kid-made flags really showcase what can be done with everyday recycled items like egg cartons, jars and newspapers.
"The Birmingham 2022 Commonwealth Games promise to be the most sustainable yet and are committed to creating a carbon neutral legacy. Initiatives like this demonstrate the enthusiasm, especially among young people, to protect the environment and ensuring that future generations can also enjoy the games. I encourage anyone heading to the city center over the next month to take a roadmap and get involved.
Lucy Burnett, Marketing Manager at Touchwood, said:
"Touchwood is delighted to support the Commonwealth Games Flag Trail. The students have obviously worked hard on this project and it's great to see such colorful works on display throughout the centre. The initiative aligns closely with our sustainability ambitions and our commitment to reducing Touchwood's impact on the environment. We invite everyone to participate.