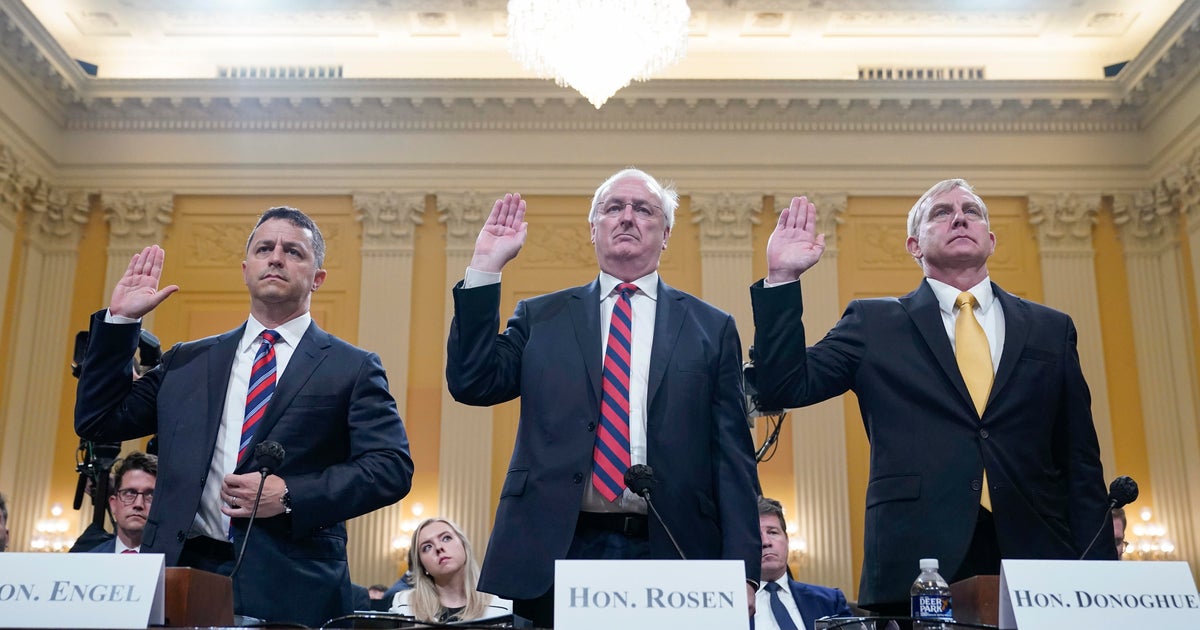 Duties and functions
The House's Jan. 6 committee hearing today focuses on former Justice Department official Jeffrey Clark
The House committee investigating January 6 attack on the United States Capitol focused Thursday's hearing on the efforts of former President Donald Trump and former Justice Department official Jeffrey Clark pressure the department to help overturn the 2020 election results.
Trump wanted to fire Acting Attorney General Jeff Rosen – who had just taken office in December 2020, after the Attorney General The resignation of Bill Barr became official – and to replace him with Clark, an environmental lawyer who had never filed criminal charges. Rep. Adam Kinzinger, who led the questioning Thursday, said Clark's only qualification was that he "would do whatever the president wanted him to do."
Clark's installation and pressure campaign on the Justice Department amounted to "essentially a political coup," said committee chairman Rep. Bennie Thompson.
In video testimony, former White House attorney Eric Herschmann said of Clark that "the best I can say, the only thing you know about environmental and election challenges is that they both start with 'E'".
Three former Justice Department officials testified before the committee on Thursday – former acting assistant attorney general Richard Donoghue, former acting attorney general Jeffrey Rosen and former assistant attorney general Steven Engel. Donoghue showed handwritten notes he took during a call with Trump, in which the former president said, "Just say the election was corrupt and leave the rest to me and the [Republican] members of congress. »
Trump's determination to install Clark as the nation's top law enforcement official was evident — January 3, 2021 White House call logs shown by the committee already referenced Clark as attorney general acting But all of the assistant attorneys general have threatened to quit if Clark is installed as head of the Justice Department, former assistant attorney general Steven Engel, who headed the Office of Legal Counsel, testified Thursday, and that reality convinced Trump to reconsider.
Donoghue testified Thursday that Clark wanted to send a letter to the Georgia Legislative Assembly from the Department of Justice questioning the integrity of the election, a move that "could very well have thrown us into a constitutional crisis" if that plan had been cleared to go ahead, Donoghue said.
After the 2020 election, Trump relentlessly pushed the Justice Department to investigate his voter fraud allegations, even after they were investigated and refuted. At one point, when the Justice Department refused to act on a conspiracy theory claiming Italian satellites were transferring votes from Trump to Biden, the Defense Department did some research. Donoghue dismissed the theory as "absurd".
Kinzinger said the panel learned that former acting defense secretary Chris Miller ended up calling the attaché in Italy to investigate the Italian satellite claim.
Handwritten notes from Donoghue noted that Trump told senior Justice Department officials, "You may not follow the internet like I do.
"This is one of the best examples of how long President Trump would go to stay in office," Kinzinger said. "Scouring the internet to support his conspiracy theories."
Meanwhile, CBS News has learned that there was a search of Clark's home Wednesday morning.
It was also revealed Thursday that Republican Congressman Matt Gaetz and other GOP members of Congress had asked the White House for forgiveness, according to recorded communications and recorded testimony from former White House aides.
Five days after the attack on the Capitol, Rep. Mo Brooks sent a letter to the White House "in accordance with a request by Matt Gaetz," recommending that the president grant a "broad pardon to the following groups of people: every member of Congress and senator who voted to reject ballot submissions from the Arizona and Pennsylvania Electoral College."
Brooks, meanwhile, responded to the revelation of his pardon request in a text message to CBS News: He said that "there is concern that Democrats are abusing the justice system by prosecuting and jailing Republicans who acted in accordance with their constitutional or statutory duties under 3 USC 15."
The committee did not set dates for the next hearings, which Thompson said would likely be in July.
Ellis Kim contributed to this report.