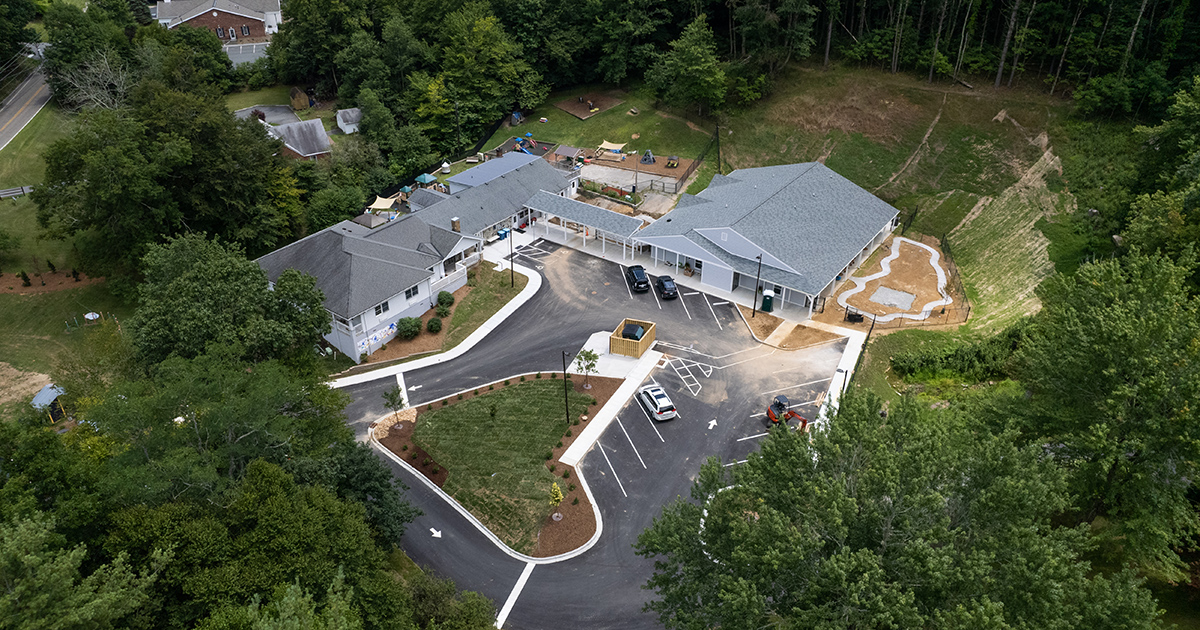 By J. Todd Coates
BOONE, NC — The expansion of Appalachian State University's Child Development Center (CDC) nears completion this summer as the child care program adds new accreditation to its high-level credentials. quality.
Final touches and tasks are being completed on the expansion project which will provide space for an additional 54 students – with priority given to the children of App State faculty, staff and students. This will nearly double the center's enrollment capacity.
"The App State Child Development Center is one of the most sought-after child care facilities in the community," said Chancellor Sheri Everts. "This expansion will help meet the strong demand for childcare services with exceptional quality care for the children of students, faculty and staff.
Part of the Division of Student Affairs, the center currently provides high quality, affordable care to 68 children and has a waiting list of over 200 children/families. The expansion will increase the total number of clients served and address needs not being met by the current program.
Everts said the university recognizes the importance of child care in recruiting and retaining highly qualified faculty, staff and students, and in enabling students to continue their education while raising and expanding their families.
The expansion will add five additional classrooms designed for young children – including furniture, with details such as children's loveseats and coffee tables. These intentional designs were supported by CDC Director Moriah Stegall and her team to help nurture young children and support teachers in the physically demanding world of childcare.
The expansion also includes a kitchen, laundry facilities as well as additional parking and sidewalks around the new and existing buildings. Additionally, a new AppalCART bus stop will be placed at the center, providing better access to and from the center for parents of students and families in the community who rely on local public transit.
A recent assessment of the university's wellness and prevention services indicated that an increasing number of students have dependents and need additional support, such as childcare options, to thrive at App State. Most of these student parents don't have close family support, according to Stegall. A potential secondary benefit to the wider community is that slots may open up at other local daycares, due to increased CDC housing.
The University of North Carolina System Board of Governors approved $2.57 million in university spending for this project to improve the campus for students, faculty, staff, and the public, and to provide support for the recruitment and retention of all members of the university and local communities.
CDC Obtains Children's Council Accreditation
Earlier this summer, the Child Development Center received accreditation from the Watauga County Children's Council after completing the council's Pathways to Accreditation program. This follows the 2021 receipt of a five-star center license from the North Carolina Division of Child Development and Early Education – the highest possible and an increase from the previous license four stars from the center.
Pathways to Accreditation is a pilot program that North Carolina sees as a potential model for other daycares. The program provides high quality training, mentoring and professional development to Watauga County early childhood programs that meet the standards and criteria established by the Children's Council. The Pathways program is designed to provide ongoing support to early childhood educators to improve the quality of early childhood care settings by increasing positive teacher-child interactions, developmentally appropriate practices, and staff professionalism. early childhood care.
This local accreditation is just part of the center's five-year plan, according to Stegall, who said she sees it as a building block in pursuing national accreditation. The Pathways program has provided the center with more personalized support and enabled the center to work with other child care facilities to support comprehensive early care practices in Watauga County. Stegall believes this accreditation process has given her staff more confidence to apply for national accreditation over the next five years, she said.
While working through the Pathways program, each of the center's team members contributed to the success of accreditation and found validation for their passage from a thematic program – a sequenced framework offering a clear progression of skills and knowledge – to an emerging program. Teachers at the center have embraced this shift and developed renewed vigor in expanding provocations – activities that provoke intentional learning – to play to the interests of the child while consciously integrating various learning goals. With the emerging curriculum and more modern approaches to early care and education, such as mixed ages for continuity of care, both new and veteran teachers are excited about a new way to teach.
"The Child Development Center has a culture of deep passion for providing exceptional care," Stegall said. "I am incredibly proud to work with a dedicated, passionate and motivated team! »
What do you think?
Share your comments on this story.
About the Student Affairs Division
Appalachian State University's Division of Student Affairs is committed to developing lifelong learners and leaders by engaging and nurturing students in a culture of care and inclusion. The division consists of 16 units that provide activities and services to help students develop further by becoming global learners, fostering healthy relationships, appreciating diversity and different perspectives, understanding community responsibility, improving self-awareness, developing autonomy and living ethically. These units include the Career Development Center, Campus Activities, Community Leadership Office, Wellness and Prevention Services, Counseling and Psychology Services, Student Health Service, Student Services, Parents and Family, University Housing, Student Conduct, University Recreation, Cross-Cultural Student Affairs, Student Legal Clinic and Off-Campus Student Services, Electronic Student Services, Child Development Center and Child Development personnel and strategic initiatives. Learn more at https://studentaffairs.appstate.edu.
About Appalachian State University
As the Southeast's premier public undergraduate institution, Appalachian State University prepares students to lead meaningful lives as global citizens who understand and take responsibility for creating a sustainable future for all. The Appalachian Experience promotes a spirit of inclusion that brings people together in inspiring ways to gain and create knowledge, to grow holistically, to act with passion and purpose, and to embrace diversity and difference. Located in the Blue Ridge Mountains, Appalachian is one of 17 campuses in the University of North Carolina system. Appalachia is home to nearly 21,000 students, has a low student-faculty ratio, and offers more than 150 undergraduate and graduate majors.